Small gardens can often be difficult to design, but just because you're not blessed with a huge outdoor space doesn't mean that you can't be creative. Just by making the simplest of changes, your garden can be much easier to maintain and can have a huge impact on the composition of your garden.
Mow or grow?
Small gardens with small lawns can be quite a lot of work. Lawns can be practical and are great places to play but have you ever thought that more plants and no lawn would make more sense for a smaller garden? Picture a windy path covered with foliage and flowers, with a peaceful bench hidden from the world for you to escape to. If you still wanted a lawn, you could always consider artificial grass. A roll of artificial turf on a balcony will transform it instantly and can be just rolled out and taped down. This has become increasingly popular in recent years and looks great all year round. Jackson Garden Services can help with this!
Create a sense of height
Just by introducing a few specimens of taller plants to your garden will create an elevated area and give a feeling of privacy to your outdoor space. Planting a tree, large shrub or vine is the most straightforward way to add height to the landscape. Large features in a small garden will make the space feel cramped. Rather than install a large garden water feature, perhaps introduce a spout or wall-mounted spillway which will be more in proportion with the space.
Splitting the garden into different levels can also create a feeling of more space, especially if you have a sloping garden. The area can be made more usable by dividing it into split levels, each with its own look. Ever thought about decking? Jackson Garden Services offer a fantastic decking service and have years of experience in decking designing and installing in Plymouth and surrounding areas. They can help you achieve the outdoor space of your dreams. Enhance a small, decked area further by continuing the decking up the surrounding walls.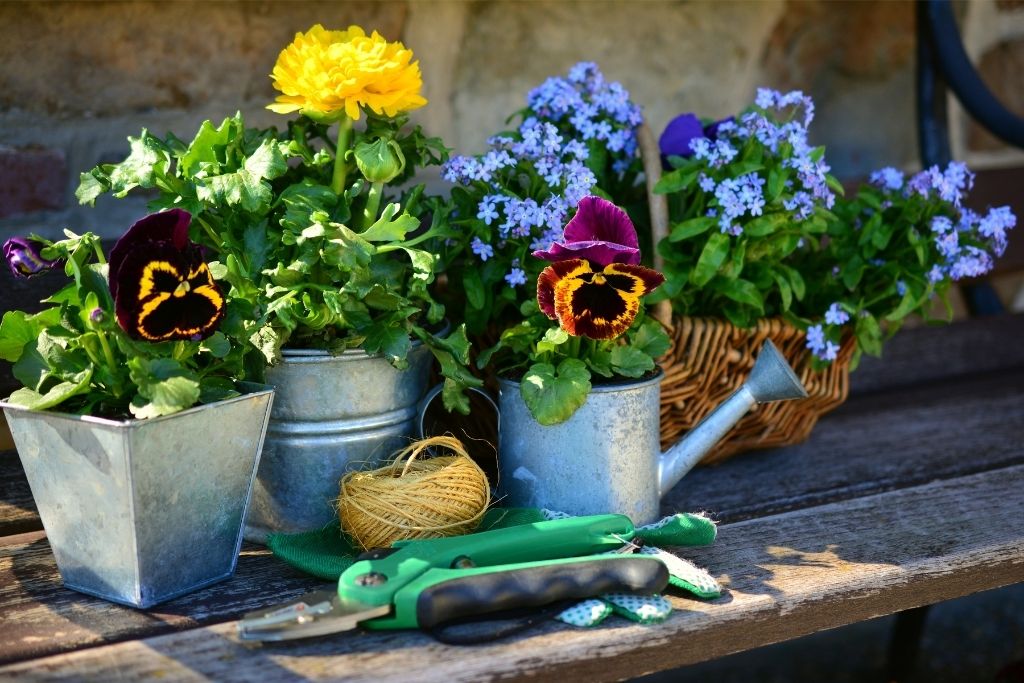 Using containers
Did you know – oversized planters can transfer a tiny garden by adding drama, height, and style? Containers and pots are great for small trees or flowering bedding plants, and you can also change or move them around easily. These can make a real impact in small spaces, keeping everything flexible, making your small garden easier to maintain. Using clusters of different pots that contain foliage at varying heights and scales will also maximise the space.
Give your small garden some inspiration by growing fruit, vegetables and even herbs – you could soon find your outdoor space brimming with edible produce.

Transform the walls
Ever thought of changing the colours of the walls and fences in your garden?
Painting any exposed walls in green exterior paint helps to blend in further with the surrounding greenery. Additionally, by adding a decorative mirror in a suitable space will help create the illusion of the space appearing larger.
Just by painting your fence a certain colour, you can turn an essential garden border into something that visually enhances the space. A high-quality painted backdrop can draw eyes up and create the illusion of extra height and space. A simple way to achieve this is to use a simple treatment with two-tone block colours, painting up to an eye level with the lighter shade and using the darker shade along the top. It will also compliment green foliage brilliantly.

Transferable space
Are you making the most of your outdoor space?
As we have all been spending more time at home recently, many people's thoughts have turned into how they can make the most out of their outdoor space. Dividing your garden into small sections will optimize the space that is used.
Many tweaks can be made to your garden, from turning your walls into seating areas to maximise the use of the space, to creating borders along existing paths to enhance the area. If you have a lawn, why not create a path between borders that takes you to it as a separate space.
It is better to have an area that has exactly the right surface that you want – this could be bricks, slabs, gravel, pebbles, or whatever you want. This will also improve the look and feel of the area.
Don't forget, the smallest garden can be just as rewarding as the largest – everything in a small garden is treasured and noticed daily. The important thing is to think about is what you want the space to be used for and stick to the plan. With careful planning and the right tweaks, you can make your outdoor space exactly as you want it to be.
Contact Us
The Jackson Garden Services team are experienced gardeners, who offer a wide range of garden services, from small one-off jobs to large scale garden maintenance jobs, in addition to our fencing, landscaping and turf services.
We offer free, no-obligation site surveys and quotes, with a friendly and professional service guaranteed. To book an appointment or discuss your requirements, please call us on 07399 092364.
If you want to stay up to date with all the latest news, simply connect with us via Facebook to keep in touch. Don't forget to give our page a 'Like' whilst you're there!